Kathryn Brooke turned 1 on Monday, August 29, 2011. I made her a pancake and scrambled egg breakfast and she loved it. We met daddy for lunch and then to the park for some swinging we went. We ended the day with a nice relaxing night.
There were a few things she did on her birthday that she had done for the first time.
>>Took her sippy cup with no problems for the first time. I have been trying for the past couple of months and at the end of the day while at the park, I gave her the sippy cup after letting her watch me drink water out of it and she actually took right to it!!!
>>Took her first steps to someone other than Mike or me. She walked right to Josh with three big steps!!! :)
>>Pooped in the tub! haha! I have been waiting on this one as it seems to happen to everyone at least once. I had to grab her out & scrub the tub, lol.
>>First taste of chocolate and first nuts experience. She shared some rocky road ice cream with Nana!
A few things she has started doing this past month are:
**Takes a few steps on her own...I honestly think she would be walking by herself if she could gain the confidence. :)
**Wears 12-18 month clothes. She is our little chunky monkey.
**Will not eat from a spoon...unless it is yogurt...girlfriend can put down some yogurt! :)
**Dances to music-she prefers
Sid the Science Kid
and
Dinosaur Train
intros, but anything will do.
**Answers "yes" and "no" with a simple head shake or nod and has gotten QUITE good at doing so. She will certainly shake her head at you if she means NO! ;)
**NO MORE FORMULA! That is one expense I am glad to say we are RID of!
**Size 3 diapers-thinking of trying size 4 next, but not sure yet.
Tina came to visit with us and stayed through her birthday as did my mom's sister and my aunt Terry with her three adorable children. We spent a lot of time out at the pool and had a scare with Kaydee! EEK! All was well after it was all said and done. We got to visit many of the pools around my parents' neighborhood and had a great time!
Kaydee had a playdate with Isabella, whose birthday party was last Saturday. I cant' believe how much bigger Isabella is than Kaydee and they are only 2 days apart...Kaydee is even OLDER! haha!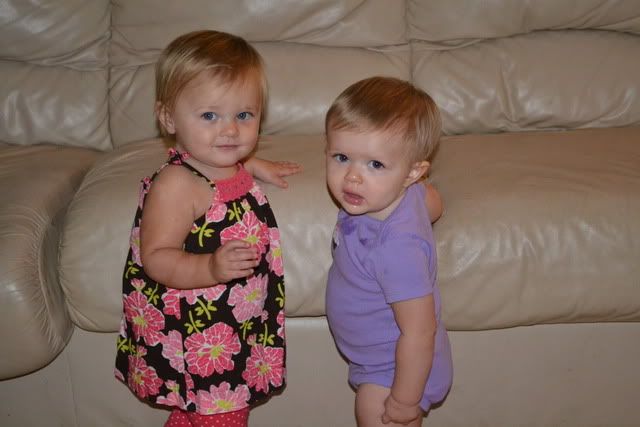 The Sunday before Kaydee's birthday, we had a small get together with my dad's family (and of course, Terry & Tina). We grilled hot dogs and ate cake with K-bug! She LOVED her cake! She ate it UP with no hesitance. She typically doesn't like having dirty hands, so I was worried she wouldn't take to it well, but she dug right in. She got lots of great things and this may be the first time she actually PLAYS with her toys!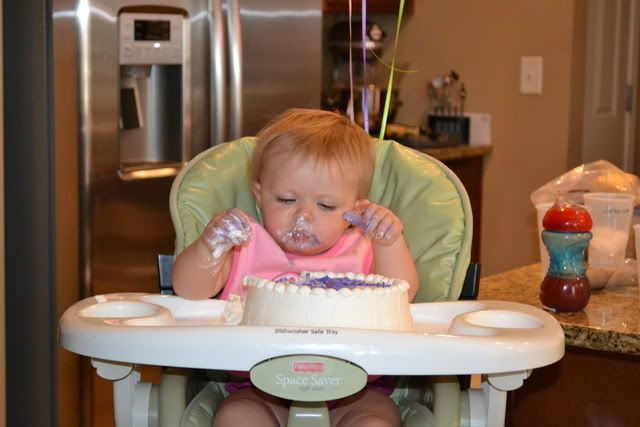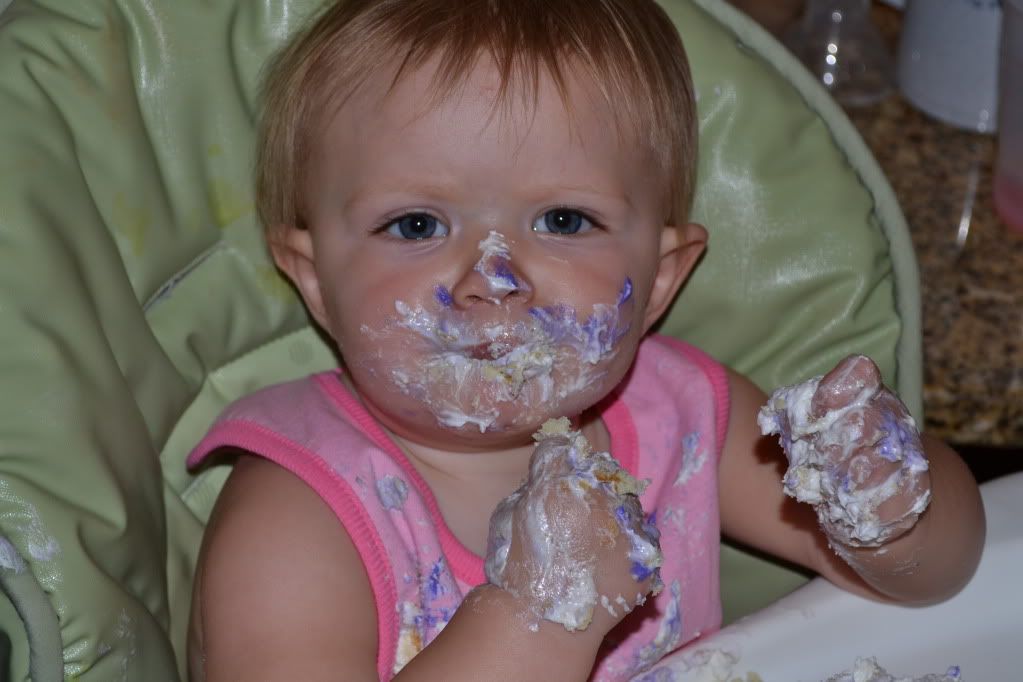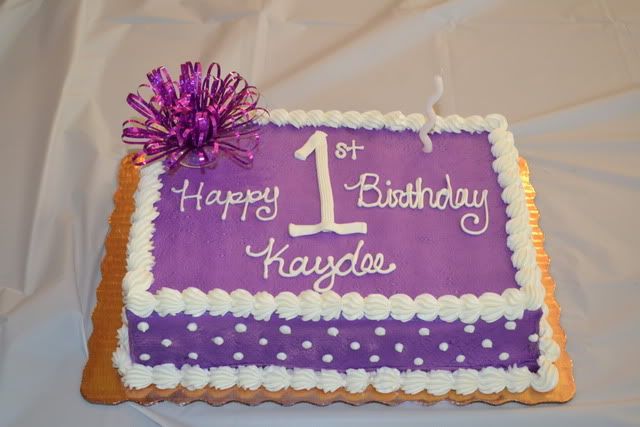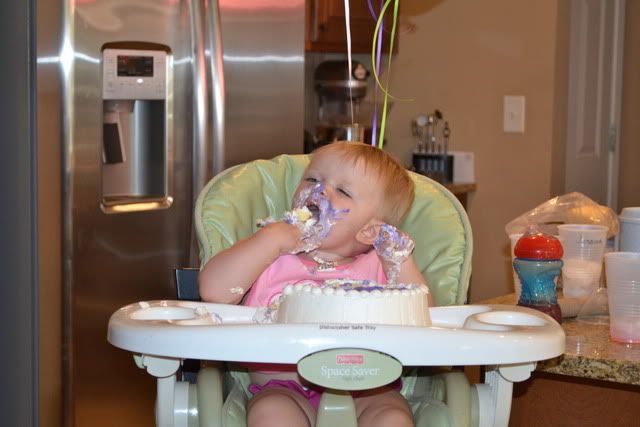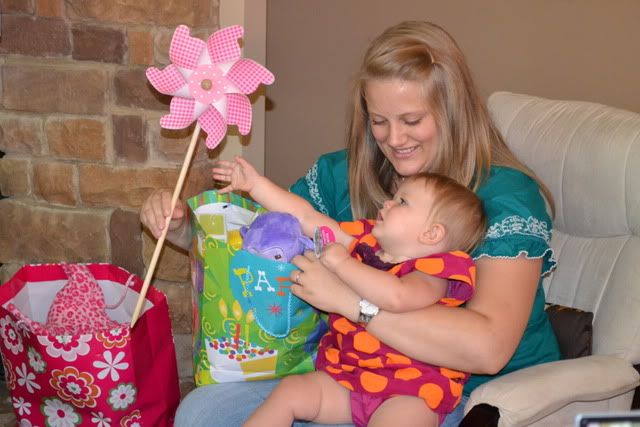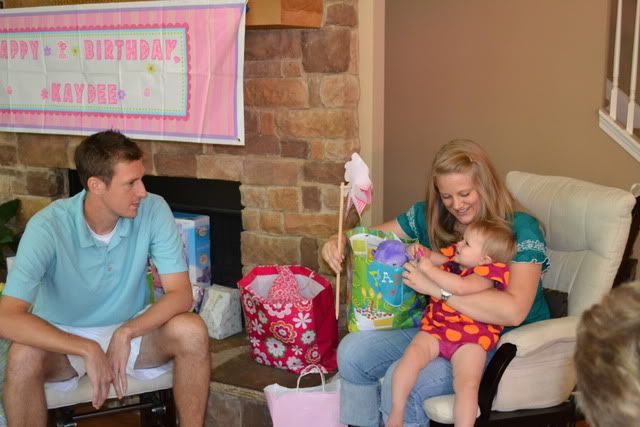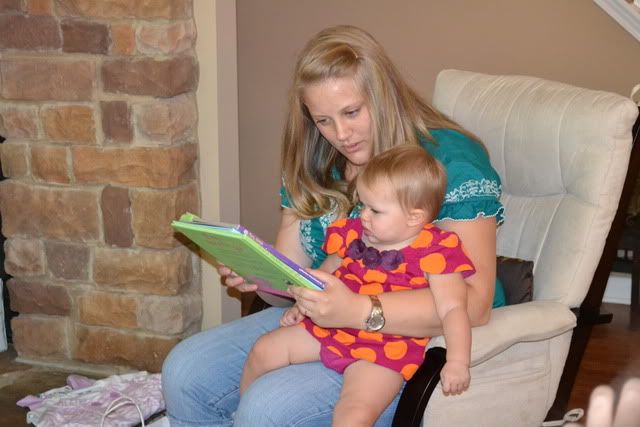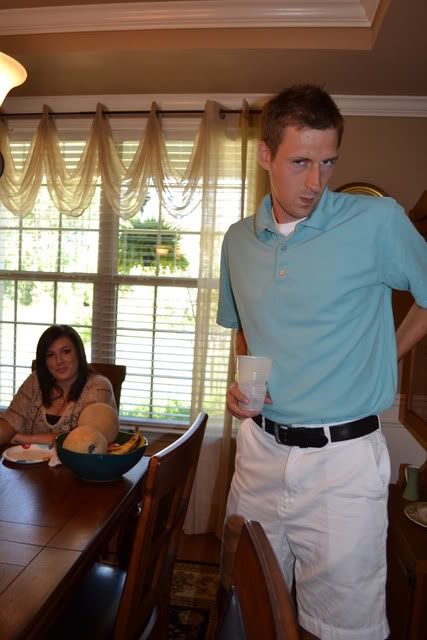 Someone was having a really good time :)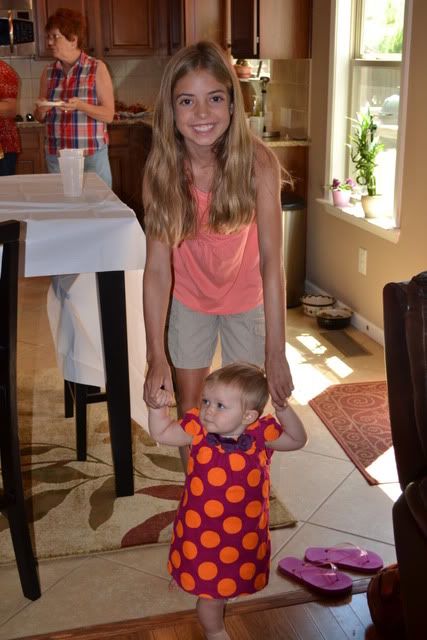 Her cousin Audrey was a tremendous help while I was running around. She has a great future in babysitting.
We ended the day with pizza at Paisano's...our favorite pizza place. Tina and Terry left on Monday and so it started our slow week (compared to the previous week). :)
Kaydee has her "friend" birthday party planned for this Saturday, September 3 and I am so excited. We are having a few of our friends and of course-Mike's side of the family join in. We are also getting to dog-sit little Jazzie!!! :) :) :)
Shalom!