Kaydee turned 7 months old 1 week ago today. She is now in the later part of her first year & I don't know how to feel about it. I am glad that I get to watch the most beautiful life grow & I am always anticipating what she will be like at 8 months...9 months...1 year and so on. But the fact that this past 7 months has gone by in just two tiny blinks of the eye (or so it seems) makes me realize quickly how I do not have time to blink as I want things to go into slow motion mode. I am not ready for a mobile baby even though I am constantly saying, "I can't wait til she starts -this- or -that-. I want her to remain my litte "Bug" and not my big Kathryn for a while!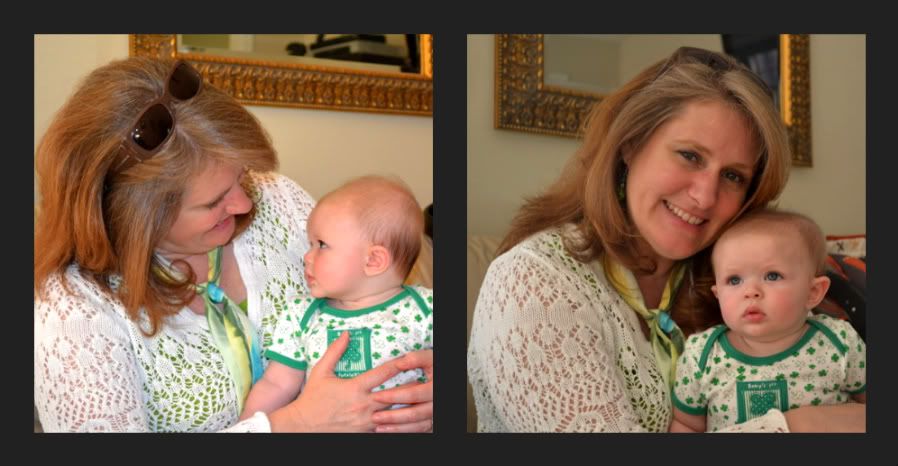 At 7 months you are:
**Rolling over both ways & JUST starting to get your little legs up under you every now & then like you KNOW there is something there that you need to do, but just haven't put it all together yet. No more mommy & daddy bed...I am too worried you will roll right off. So, we put you on the floor much more often now. :)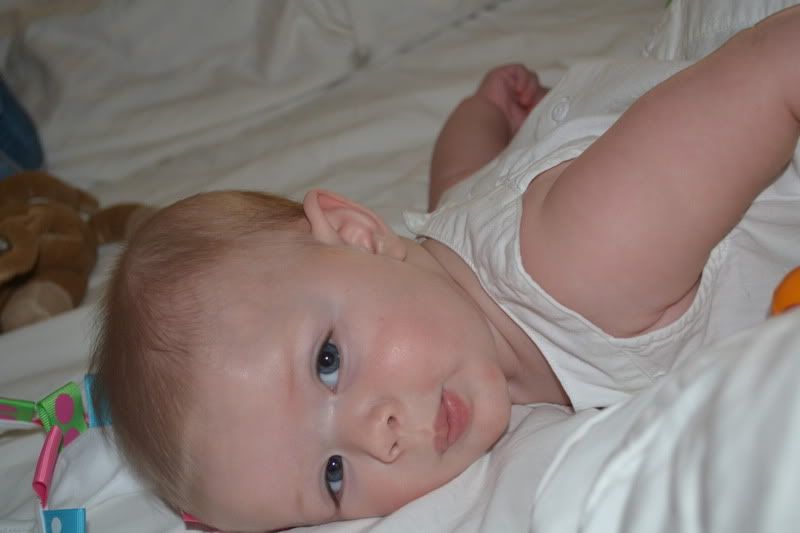 **Eating baby food as much as you are a bottle now! You actually prefer food over the bottle, but there are times when nothing but a bottle will do. You hold your own bottle up until the end. You get lazy at the end & prefer for mommy or daddy to hold it. We think you just enjoy being taken care of. ;)
**You get bored with your own toys, so mommy has to improvise with things you really aren't supposed to have...for instance... right this moment, you are in your swing, paci in mouth & flailing a bottle of zyrtec around. Don't worry, though-I am keeping a close eye on you. Why do they not make baby toys that resemble big people things. Forget your cute little 6 mos+ cell phone-you prefer mommy or daddy's phone. I gave you my old pink Razr that you love to eat & chew on.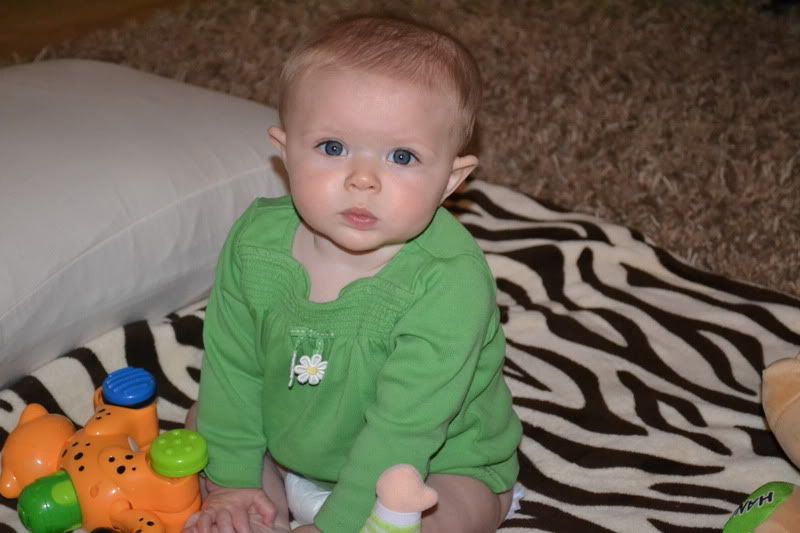 **FITS! You are starting to pitch them ALL the time! :/ When things are taken away that you aren't supposed to have-you pitch a fit. When we lay you down to change your diaper (this used to be your favorite time)-you pitch a fit. Getting you into your car seat to go somewhere-fit pitched. Tired?-why not pitch a fit? Hungry-fit. Messy fingers?-FIT! You are apparently just like I was as a youngin & it's driving me nuts! Though it only lasts a few seconds, and once we have distracted you, you turn back into the most beautiful & precious being I have ever laid eyes on! :)
**Favorite foods? ALL THINGS except peas. You gag on peas. Weird, because you eat green beans & garden veggies like it's noone business, but heaven forbid I try & give you peas. You eat bananas, prunes, apples, pears, berries, pineapple, plums, grapes & most of them time, they are a combination of a few of the above. We mix this with oatmeal (you hate rice) and pear juice for breakfast & then you have squash, carrots, or sweet potatoes for lunch & a green veggie for dinner. Only 3 or 4 bottles in between. :)
**Favorite toys-ones that aren't meant for babies. You want mommy & daddy toys. :/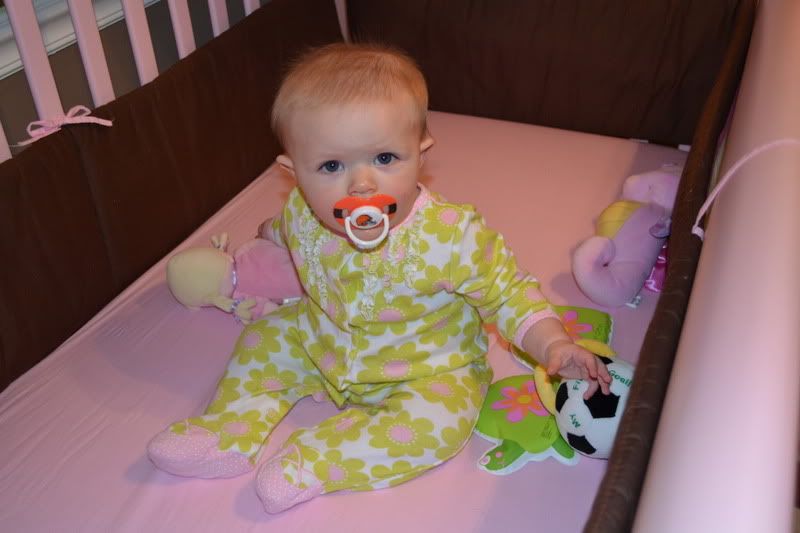 **Your happiest moments are first thing in the morning. You are such a morning person like mommy-NOT DADDY! I am glad you got that from me! :) You go to bed early & get up early-as not to waste a minute of sunlight. You are smiley for me, but the minute you lay eyes on your daddy for the first time in the morning, you SPARKLE! He makes your world & you ARE his! :) These are MY happiest moments.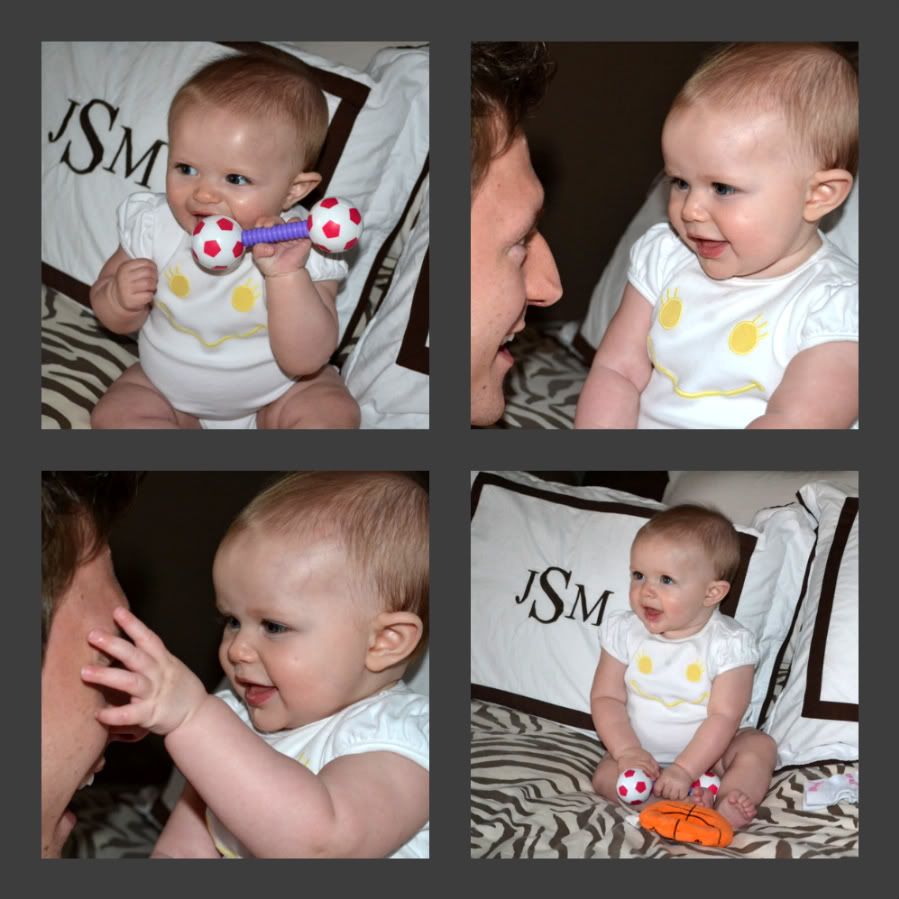 I feel as though I should be planning your first birthday already & I am just not ready! :) Slow down a bit...just a little bit so that I can catch my breath between milestones, ok? :)
Shalom!